Damp & Moisture Inspections
Do You Have A Damp Problem in Your Home?
How is damp caused?
Damp and moisture issues often stem from condensation. Condensation is the term used to describe an issue that affects many homes: water collecting as droplets on a cold surface when humid air is in contact with it.
Condensation is a particular problem in homes that are:
Poorly insulated
Inadequately heated
Draughty
What issues does it cause?
Condensation can lead to slightly, unpleasant problems in the home. Furthermore, there are also health dangers associated with excess condensation. Damp surfaces are perfect for mould growth which can damage wallpaper, wall surfaces, window frames, furniture, curtains, bedding and clothing. The mould is usually black but can also be white, yellow or green.

Spores released by the mould can increase the risk of asthma and respiratory illnesses in some people.
So, how can it be avoided?
There are several ways you can proactively prevent condensation manifesting in your home. The key ways are to:
Produce less moisture
Ventilate your home
Heat your home
And finally, ensure your home is well insulated
If you are experiencing damp in your home as a result of condensation, one of our qualified inspectors can pay you a visit to inspect what is exactly causing the issue and which of the preventative measures from above will need to be introduced to stop it.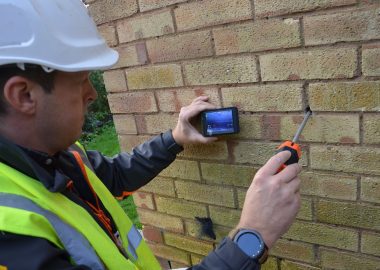 Request Your FREE Damp Inspection
Would You Rather Advice Only First?
The why not check out our FREE guide below which gives you tips for avoiding condensation in your home, providing more detail into the options above and giving practical techniques you can try yourself!