Special price: Fully fitted solar PV system - from £4,995
- 0% VAT
- Save £100s on your energy bills
- Get paid for excess solar electricity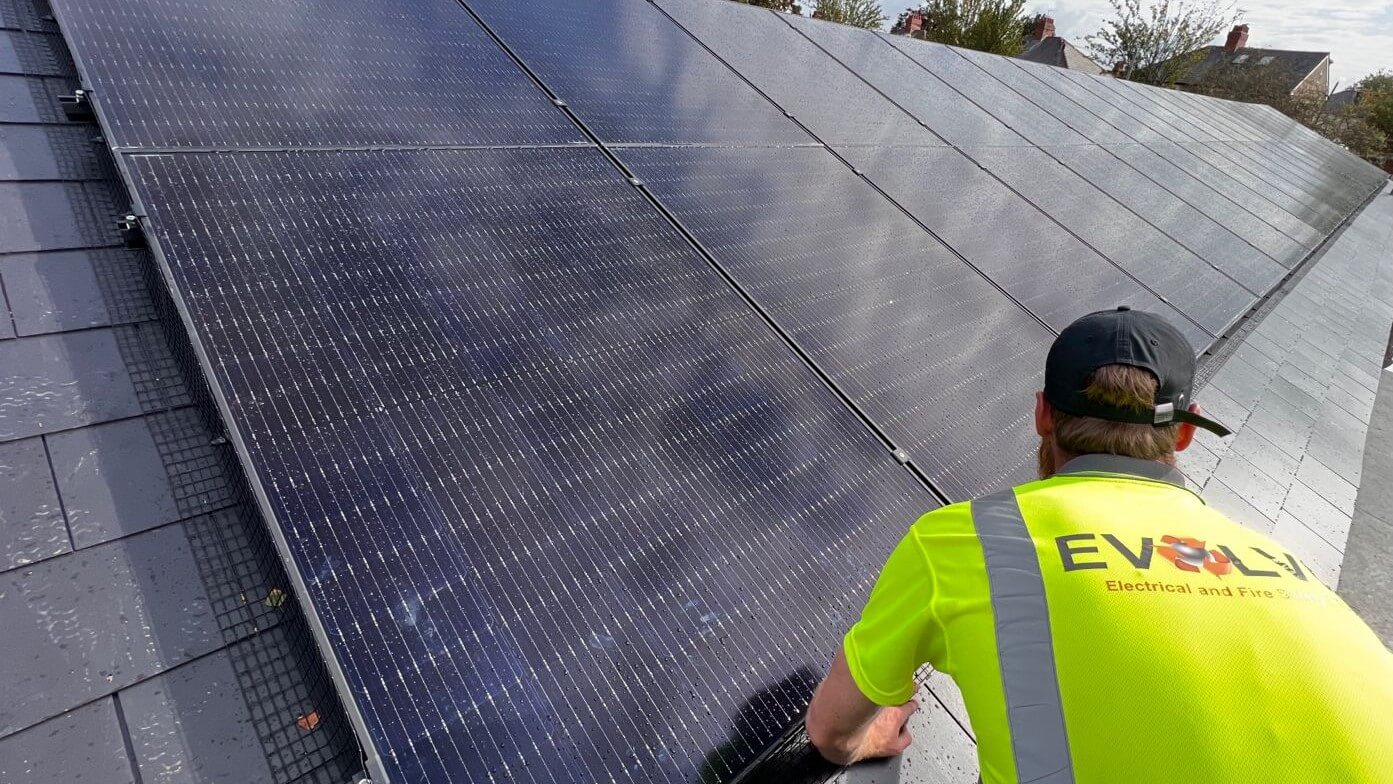 Solar PV
Power your home with solar electricity
Installing solar PV (solar photovoltaic) to generate your own electricity supply is an excellent way to protect yourself from high energy costs. Plus, you'll reduce your dependence on supplies at National Grid and lower your carbon footprint.
So you'll not only save money on your energy bill, but you will also get paid for the surplus electricity that you feed back to the grid.
Cut your energy bills – by £100s per year!
Protect against rising energy prices
Reduce dependence on grid supplies
Lower your carbon footprint
Get paid for excess solar electricity
How solar PV works
PV stands for 'photovoltaic' which means 'converting light into electricity'.
A solar PV panel consists of many cells that are made of a semi-conducting material, usually silicon. When light shines on the cells it creates a flow of electricity. Solar panels work in most daylight conditions, even cloudy days, but the more direct sunlight that hits the panels, the better the generation will be that day. The panels will capture the sun's energy as DC voltage, before the converter changes it into AC voltage which can be used in the home.
Typical solar PV systems are made up of around 10 panels but it depends on the size of your roof space, a typical system takes up 20m 2 of roof area. Most solar PV systems are considered a 'permitted development' so don't generally require planning permission but some exceptions do exist; we can advise on that for you.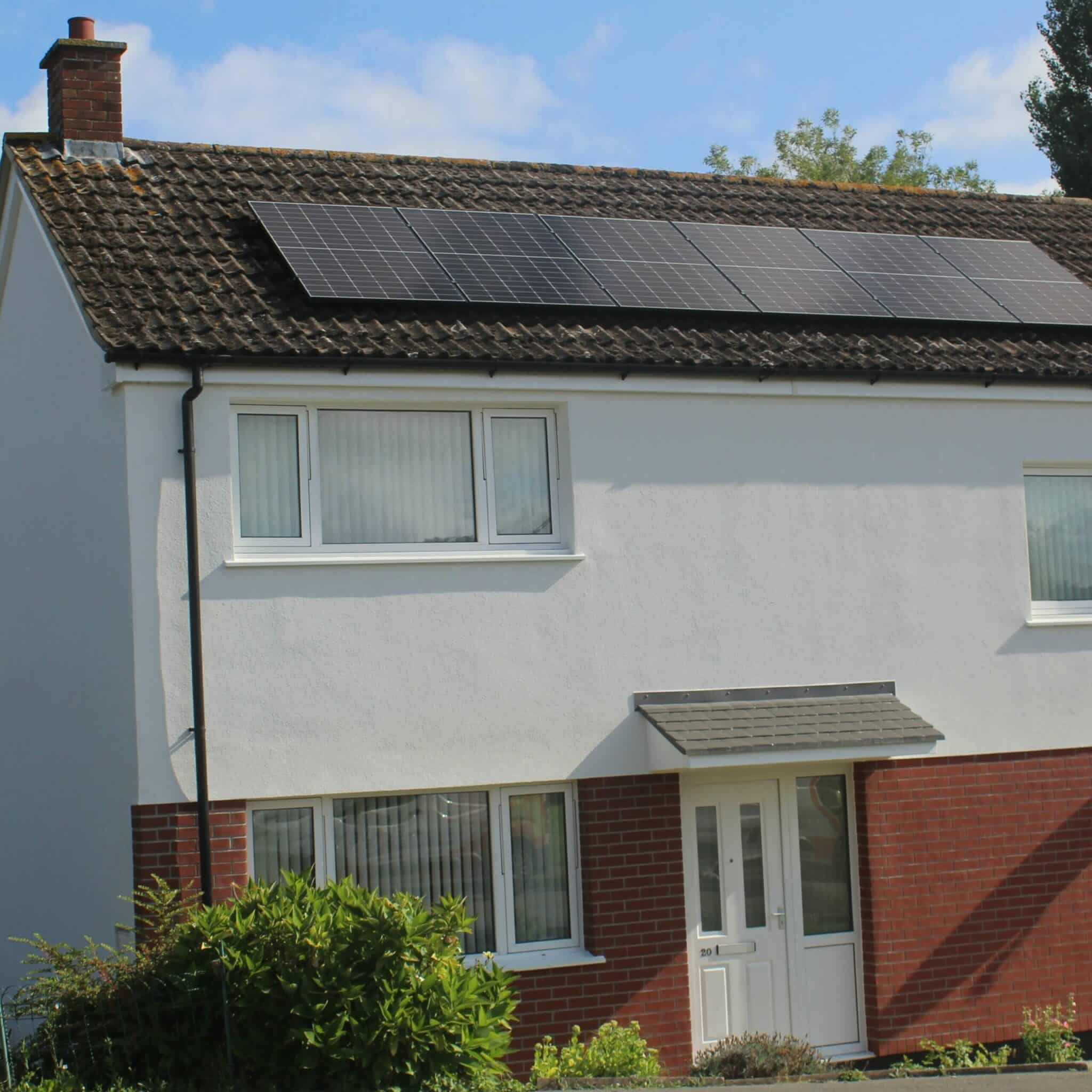 As an accredited installer, we have access to various pots of funding that can make going green with solar PV FREE or low-cost for you. The funding comes from places such as energy companies, local authorities and government.
We'll ask a few questions over the phone and then book you a FREE home visit at a time to suit you. Our experts have been installing solar PV panels for years so are perfectly experienced and qualified to specify the best size and configuration of PV system for your home and energy usage.
Our happy customers are a testament to the excellent service we offer before, during and after the installation.
Getting solar PV panels
Get in touch with us and we'll book you a FREE home visit for a Home Surveyor to come and take a look at your property, confirm suitability and advise on the PV system that will best meet your requirements.
We aim to get back to you by the next working day
Cut your bills
There are numerous factors that impact how much a solar PV system will save on energy bills, such as the size of the system, its efficiency and at what time of day the household requires energy usage.
At Evolve we'll be able to provide you with estimates based on your home and usage during a home visit. Meanwhile, the Energy Savings Trust has published indicative savings for a solar PV system in Aberystwyth, Wales, as follows:
| Annual Savings | (£/year)** |
| --- | --- |
| Home all day | £580 |
| Home in mornings | £495 |
| Home in afternoons | £460 |
| Out all day until 4pm | £370 |
| Out all day until 6pm | £335 |
Annual saving/income with Smart Export Guarantee* in Aberystwyth, Wales:
Add battery storage to your
solar PV system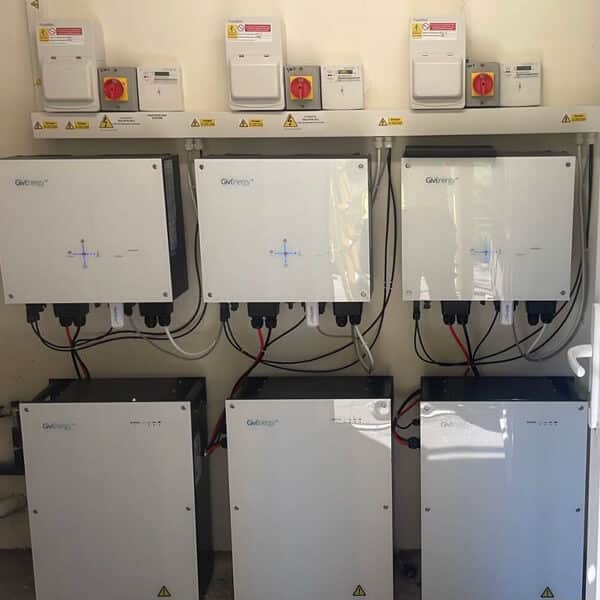 Installation
Adding solar battery storage is the perfect way to maximise the efficiency of your solar panels . . .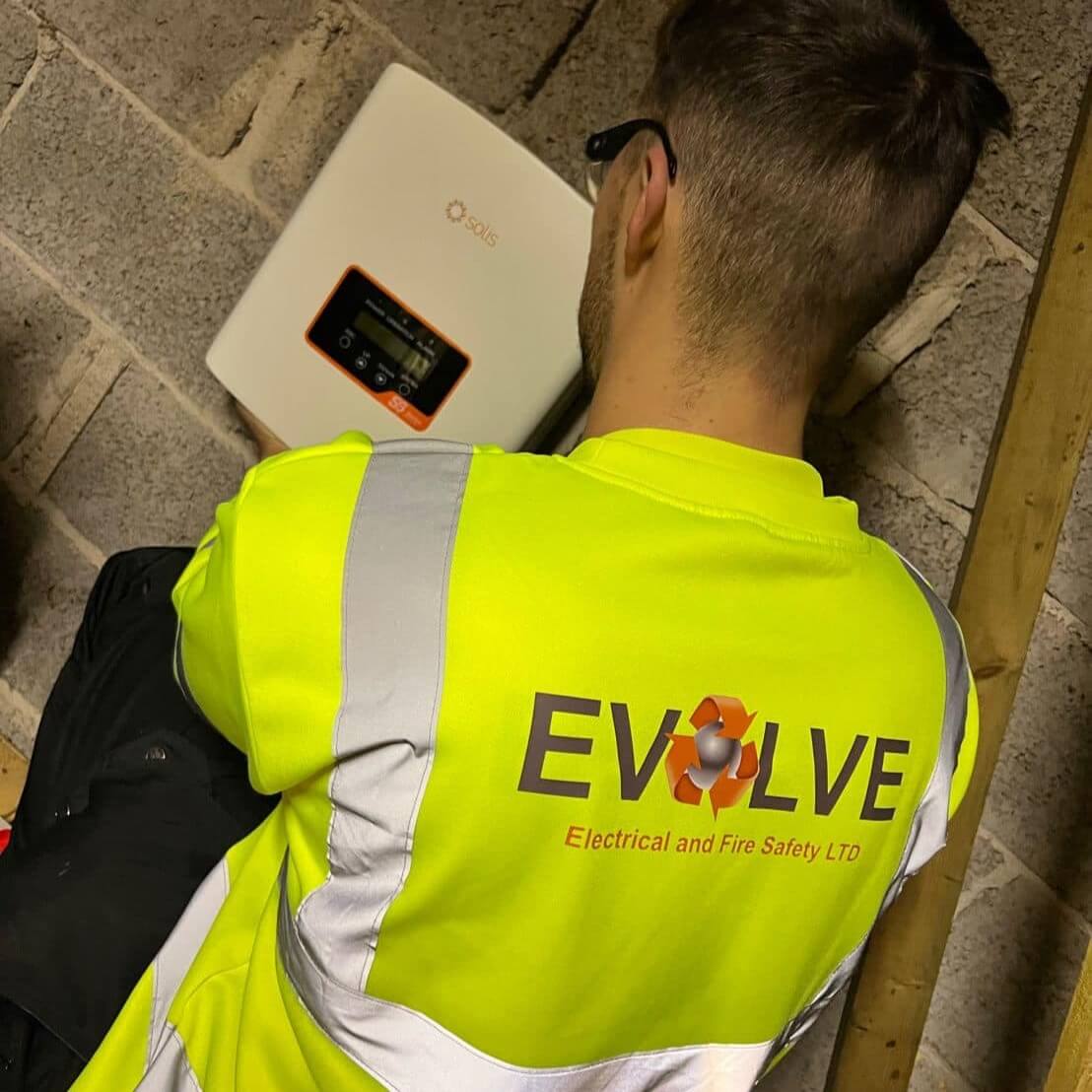 Storage
Battery energy storage systems (BESS) are devices that allow surplus electricity to be stored and . . .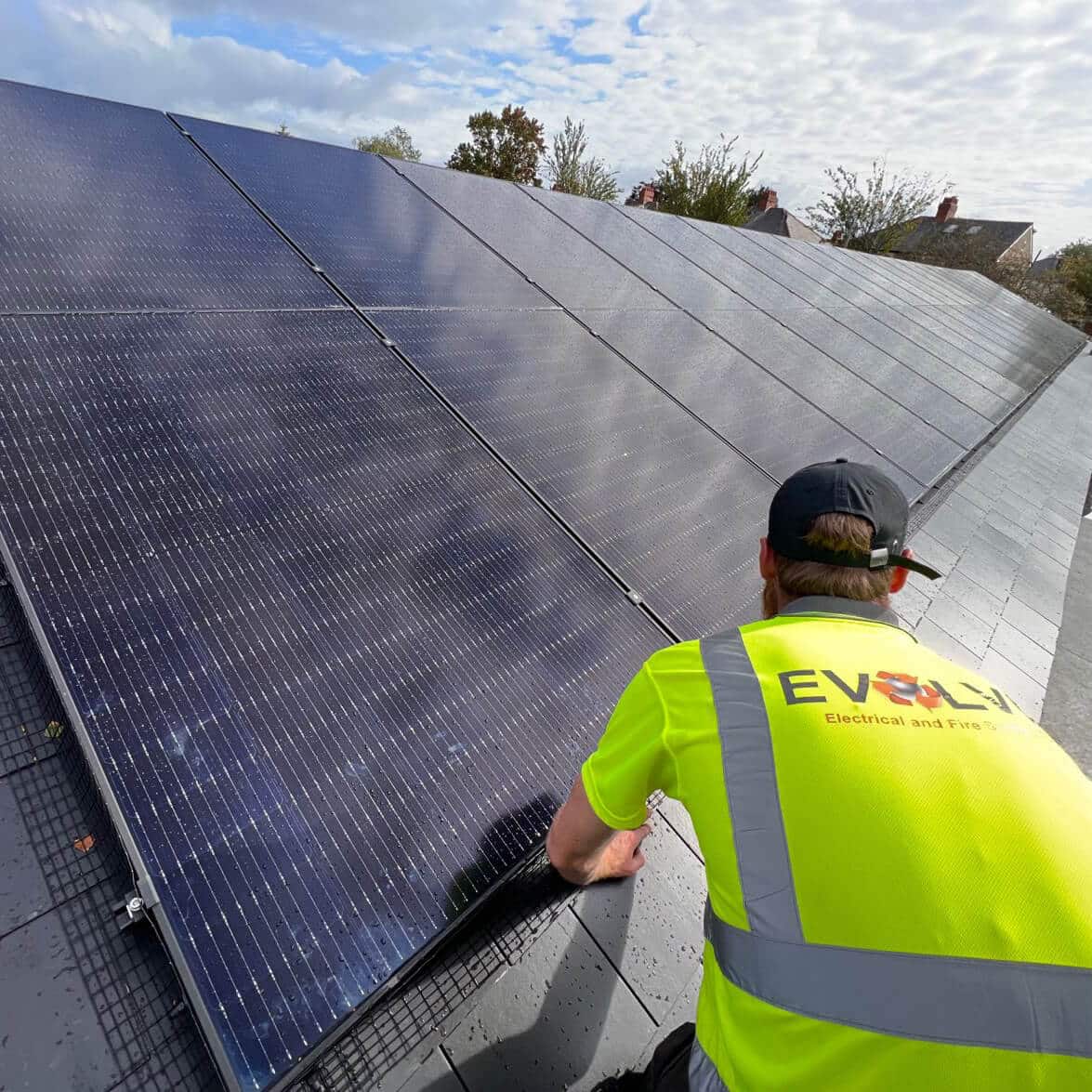 Charging
Battery storage is especially important if you are out of the house during the day . . .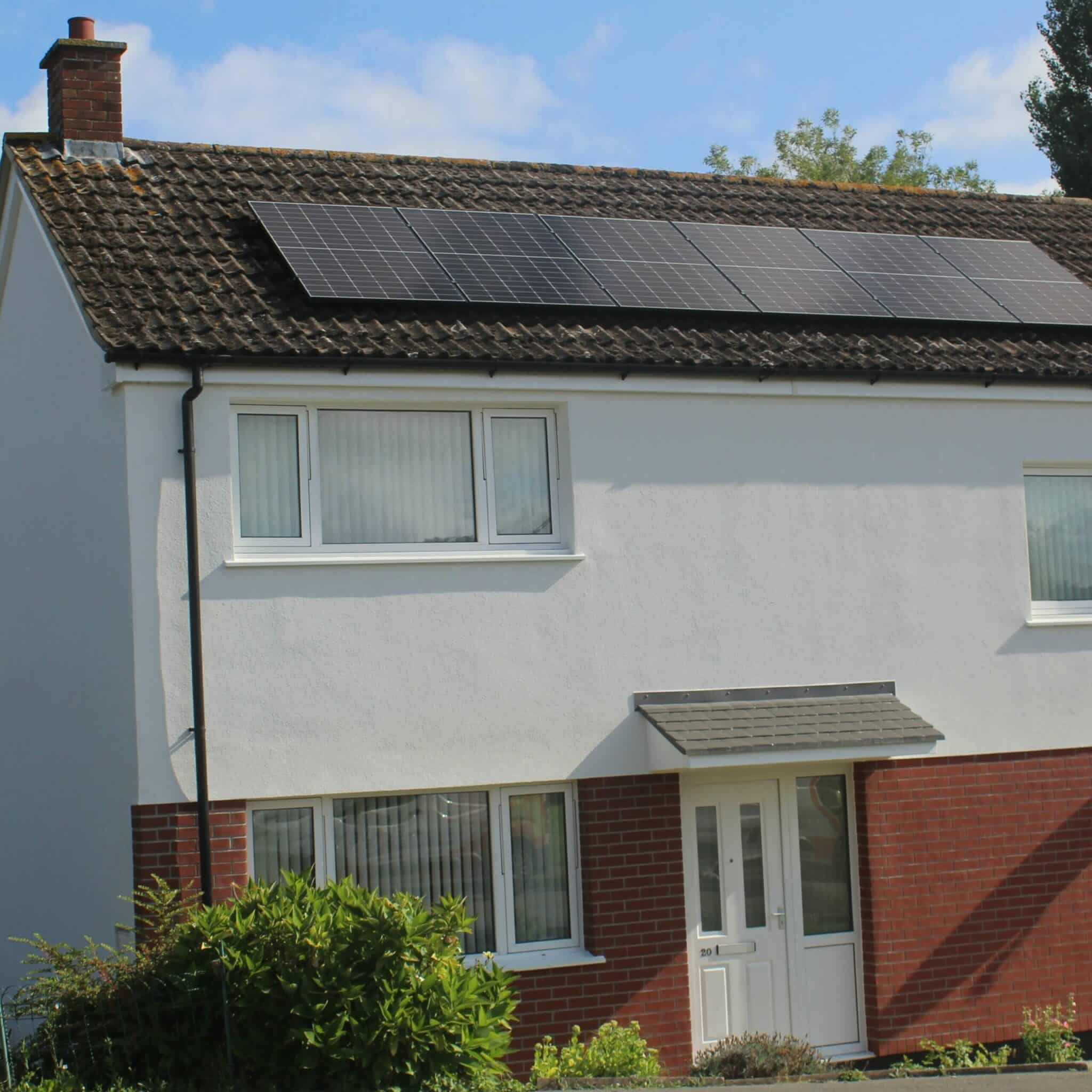 Save
Without somewhere to store your generated energy, you could end up . . .
How solar panels and battery
storage work together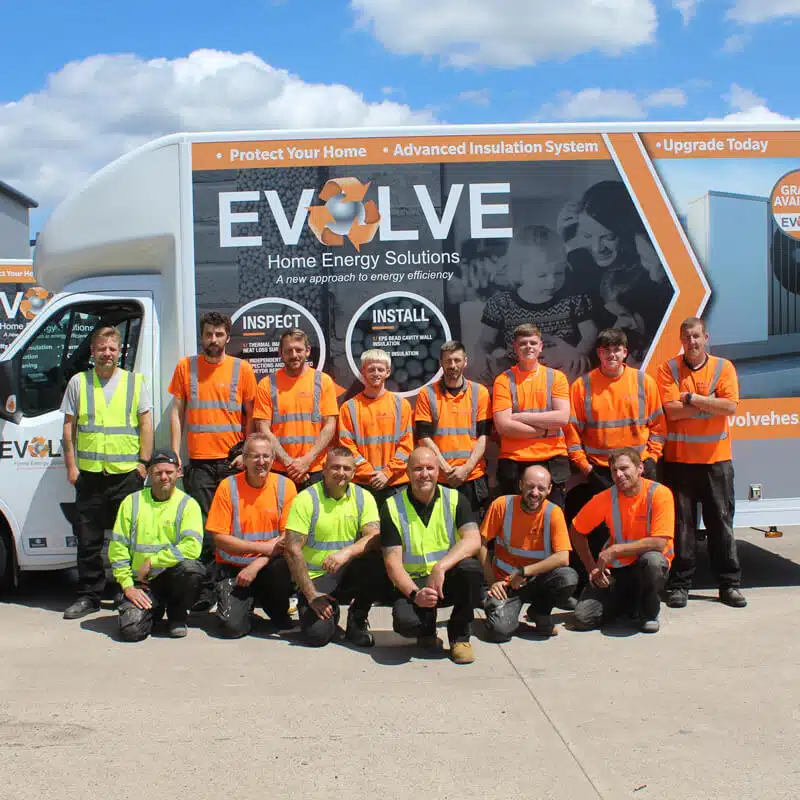 Why choose Evolve?
We're great at what we do and our team has over 450 years' experience between us so we know how to do an excellent job. We only use the best materials and all our surveyors and technicians are highly trained and take pride in their work.
450 years of combined experience
Over 15,000 homes decarbonised since 2015
A further 80 homes decarbonised every week
Thank you Evolve for the excellent work you carried out at my property – very professional from start to finish, will definitely recommend your company. Fitted solar panels.
Mr G
Solar PV FAQs
Solar PV are panels on a property's roof that collect thermal energy from the sun which is then switched from DC voltage into usable AC voltage by a converter.
Solar PV is a great investment, saving around £500** on the average energy bill, plus you'll be able to make money by registering for the government-backed Smart Export Guarantee (SEG) scheme so you're paid for any surplus solar electricity that you export back to the grid. It's also an excellent choice for sustainability reasons.
Two to three days is typical.
Around £500** on the average energy bill.
It depends on numerous factors but our prices currently start at £4,995.
* The Smart Export Guarantee (SEG) is the Government's scheme to pay you for the electricity you generate. All typical solar PV systems are eligible to receive SEG payments, so long as the technology and installer used is certified under the Microgeneration Certification Scheme (MCS) or equivalent.